Just saw
this Rayvolution's post on twitter
.
I have background in art and graphic design, so I wanted to provide some feedback but don't have a twitter account (and not planning to make one cause reasons, sorry). I'll keep this brief and to the point: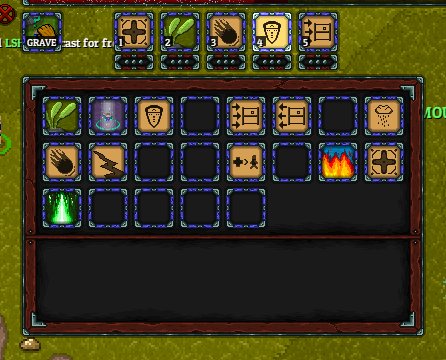 THE GOOD:
- Art style more consistent with the game.
- Icons (potentially) easier to understand due to simpler shapes and good contrast.
THE BAD:
- No color-coding. This makes it hard to quickly distinguish spells by type (offensive/defensive/utility/etc.).
- Current prototype a bit too minimalistic. Most likely because new icons only consist of 2 solid colors, whereas the rest of the game always has some kind of subtle texture.
- Some of the new icons are somewhat confusing and it's not obvious what those spells should do.
SUGGESTIONS / SOLUTIONS:
- Icons *definitely* need different background colors depending on what type of spell it is. Ideas:
Offensive spells - red - (Earthquake, Flame, Fireball, Storm etc.)
Defensive spells - blue - (Heal, Holy Golem, Banish)
Utility spells - green - (Grab, Recall, Dissolve, Growth, Resurrect)
If you want to go the extra mile - consider adding different icon frames for single-target, AoE and summon spells.
- Add a subtle texture to the background rather than it being solid color.
- Keep the icon shapes consistent. You have some that are filled shapes (heal, earthquake, fireball), and some that are just outlines (holy golem, raincloud, and whatever those drawers with arrows are).
I think filled shapes are easier to understand, but if you're going to have more than 1 shade of gray (which you already do) - you'll need to distinguish them more. Right now they blend together too easily.
- Some icons are simply confusing and it's not clear what they're supposed to do. Unfortunately this is not something I can simply explain in words, and I don't have the time to straight up design some examples myself. I suggest using an image search for some inspiration and find icons that will more easily create the right associations in players' minds.
Some pointers:
- The cross on AoE heal shouldn't have rounded corners because it loses the association with first-aid cross.
- The crack on the Earthquake icon looks flat. :
Here's an example of what you should aim for
.
- Holy golem icon always looked confusing to me. Is it a shield? What are those random little dots and notches on it then? Is that a golem head? Why is it shaped like a shield? Is that even a face? The details are too small to make out.
-----------
Thank you for your hard work and I hope you'll take these things into consideration.